One feature that is often requested is the ability to arm and disarm a vehicle and control which alerts come through in each state, some of you may have noticed that there is now an Arm and Disarm button on the vehicle page of the Website - the feature is here!!
How To Arm or Disarm
You can arm and disarm your vehicle using the website by clicking on the Arm / Disarm button on the vehicle page
You can also arm and disarm using the Mobile App (version 2.2.6 or above released today for iOS and Android) also has options to quickly arm and disarm your vehicle, from the dashboard, tap your current vehicle to toggle the armed state, or from the vehicle list, use the context menu (long press on Android or left swipe the row in iOS) to bring up the options menu.
On the website the vehicle settings tab also has an option to automatically arm the vehicle when the ignition goes off which makes it even easier to use.
We also support the DrivePro Bluetooth panic button, simply being near your vehicle is enough to disarm the vehicle before you start driving and when the panic button leaves the vehicle, it will automatically arm again.  There are more features coming to the panic button this year too!!
What does this all mean!?
When a vehicle is armed, it behaves just as you are used to everything working, you'll continue to get notifications and tracking as you always have, however, the magic happens when you disarm - we will stop generating certain notifications for a disarmed vehicle meaning less notifications to your phone and allowing you to focus in on the important stuff.  We've also provided you with an option to enable real-time location notifications if your vehicle does start moving when it is armed meaning you can be more aware if the worst does happen. 
Vehicle Notifications
If a vehicle is disarmed, the following notifications are not generated:
Tamper
Ignition On
Ignition Off
Trip Started
This means you can have more notifications set up for your vehicles without having to worry about being spammed with lots of alerts when you actually want to go for a drive or ride.
You can also enable Armed Movement Alerts in the vehicle settings tab, this means that if an armed vehicle starts moving, you will receive a notification every 5 minutes containing the vehicle location and speed, you can use your Driver Notifications rules to send this to your phone or email as needed.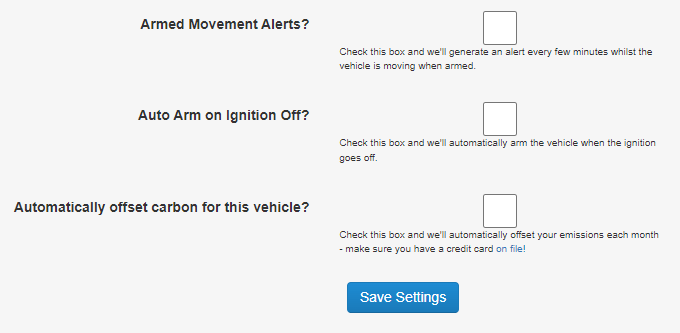 GeoFences
We have also added an option to suppress notifications generated by geofences, this is great if you want to set up a geofence around your home but only want notifications for unauthorized use of the vehicle rather than every time the vehicle enters or leaves.

We hope you find this new feature handy and don't forget, we love hearing from our customers and adding the features that you want - so let us know what to focus on next!!