If you only have one GPS tracker and one user, you may well be a bit confused about what driver assignment is and what it can do for you, this article will help you understand drivers, vehicles and assignments and make the most of them.
When you first sign up or activate your first GPS tracker, we automatically set up your account and make you a driver, we also add a vehicle called 'My Car' and make you the driver, this means that all trips recored by that vehicle also get assigned to you, you'll also get any alerts configured for that vehicle.
But what is a Driver?
Your DrivePro.io account lets you invite other users to join up, when you do so they are added to your account and they will appear under the Drivers menu in the side toolbar, for example if you have one car and share the driving of it with someone else, you could invite them to join your account and then you'll have one car and 2 drivers.
What about Vehicles?
As well as being able to add drivers to your account, you can also add vehicles, the simplist way of doing this is to simply buy another tracker from us, installing it and activating it on to your account in the same way as you did before.  You'll then be able to assign a driver to it permantly (eg if the car is dedicated to a partner or child) or you can check in and out of vehicles as the driver changes.
So how do I assign a driver to a vehicle?
There are several ways of assigning a driver, the simpliest way is to use the Mobile App for iOS or Android, not only will this give you access to your driver feedback, but you can go the the vehicle tab and quickly check in or out of vehicles right from the app.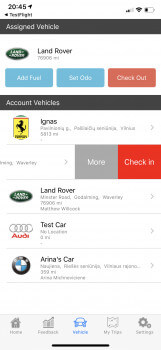 You can also check in and out of vehicles or even assign someone to a specific vehicle via the website, simply browse to the vehicle you want to assign and go to the driver tab, select the driver you want and hit the button.  There is also a handy driver log for the vehicle on this page.
Why is this useful?
If you assign drivers to vehicles, all the trips made by that vehicle will also be associated with that driver, this means the you end up with an accurate driver behaviour profile as well as ensuring expenses and fuel logs are tied to the right person.  Any device notifications that are generated are also sent to the driver of the vehicle.
If you forgot to change drivers before a trip, you can go to the trip page on the website and update the assigned driver by simply clicking the update button next to the drivers name.
What about fleets with lots of drivers and vehicles?
We also suport big fleets with lots of drivers and vehicles, we can provide bespoke installation of GPS trackers along with driver ID systems based on Dallas Keys or Bluetooth that automatically assigns drivers as they move around your vehicle fleet. Contact sales for more info.